What's on
Earth Materials
By Gallery 57
Gallery57, Tarrant Street, Arundel, UK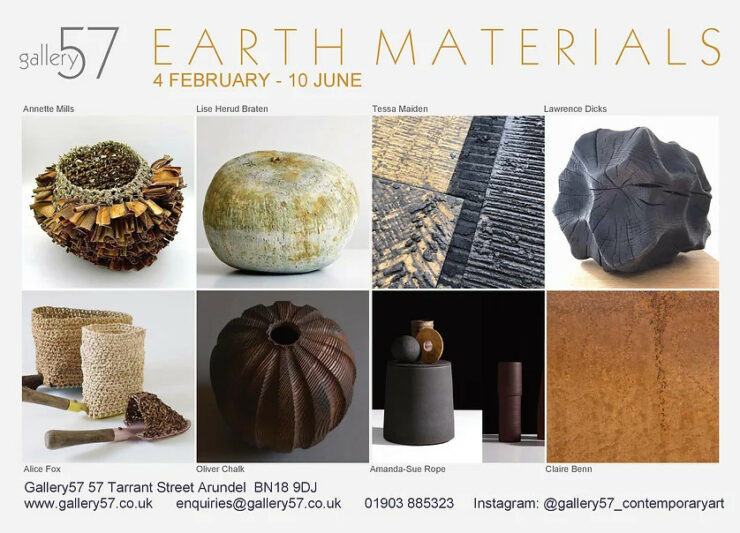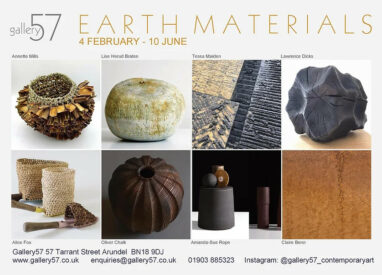 Gallery 57 opened in March 2016 and is part of a Grade 2 listed, Georgian house where owner and practicing artist, Ann Symes, lives.  This light, spacious gallery with a nod to its residential origins, provides a comfortable and welcoming space in which contemporary artworks are sympathetically displayed with attention to detail.
Alice Fox – Sustainability is at the heart of Alice's practice. The desire to take an ethical approach has driven a shift from using conventional art and textile materials into exploring found objects, gathered materials and natural processes. The work that Alice makes is process led. She gathers the materials that are available to her, testing, sampling and exploring them to find possibilities using her textiles-based skill set and techniques borrowed from soft basketry. Alice makes small sculptural pieces, bringing different materials together to form intimate tactile surfaces and structures.
Annette Mills works with basketry techniques and natural materials to make vessels which explore transitional spaces. Her practice is concerned with an artist's creative process. Through the use of the traditional basketry techniques of looping, braiding and twining she analyses her own creative process to explore concepts linked to transitional space, containment and displacement. Annette works with a variety of plants which she can grow, harvest and forage: daffodils, iris, grasses, rush and willow. Her work emphasises the raw materials used and the slowness of the making. Her pieces complete themselves as they gradually relax and settle, finding their own point of balance.
Lucy Williams – I am a Brighton based artist who explores sculptural woven form through foraged, found and grown materials. Through my intimate explorations of natural materials I discover their properties and potentialities. It's the structure, fibres, layers and pores that give them their uniqueness. The way I work is very process driven and I rarely know what form a piece will take when I start. Pieces seem to evolve as I am making them. I hope I am capturing the essence of the materials. For me this gives me connection with the plants and the landscapes they come from. I try to work on at least part of the piece in situ.
Featuring the work of Alice Fox, Annette Mills and Lucy Williams
Back