What's on
Willow Experience Day
By Angela Firth - Bojorrow Baskets
Bojorrow Baskets, Higher Bojorrow, Garras, Helston, Cornwall TR12 6LN, UK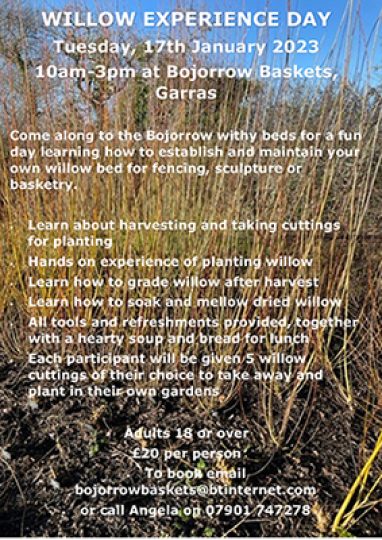 Come along to the Bojorrow withy beds for a day of experience in harvesting, grading, soaking, mellowing and planting willow for use in fencing, hedging or basketry.  A fun day out where you'll go away with cuttings to plant in your own garden and the knowledge to grow and harvest your own willow.
Lunch of vegetable soup and a roll will be provided, together with refreshments throughout the day.
The day will take place both in my workshop and out on the fields and so warm outdoor gear is essential, together with gardening gloves (waterproof if possible), wellies or waterproof boots.
All tools will be provided.
Back