News
Basketry: Rhythm, Renewal and Reinvention
8th Nov, 2021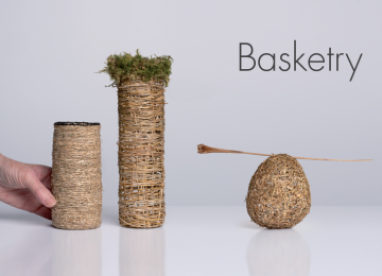 25 September 2021 – 9 January 2022
Curated by Gregory Parsons. 35 well known basketmakers and BA members are exhibiting. "This important exhibition shows what is being made today – and by whom – across basketry's beautiful variety of shapes, materials and weaves." Jane Auda, August 2021. Supporting the exhibition there will be a series of events, including Dr Stephanie Bunn's Forces in Translation project. A supporting exhibition will run in the centre's project space alongside the main gallery presentations. there will also be an area in Gallery 2, focussing on several on the Heritage Crafts Association's endangered baskets, which will be supported by workshops and demonstrations during the run of the exhibition. We do hope you will visit this fantastic exhibition. A catalogue accompanying the exhibition will be available to buy.
Opening times: 10am – 5:30pm Tuesday – Sunday
Telephone: (01824) 704774, www.ruthincraftcentre.org.uk
Free parking, free admission. Face covering is required in all indoor spaces in Wales.
Back