What's on
Willow Log basket Two Day Course with Joe Gregory – Thurs 28th & Fri 29th September 2023
By Joe Gregory
Creative with Nature, Rochdale Road, Todmorden, West Yorkshire OL14 7LA UK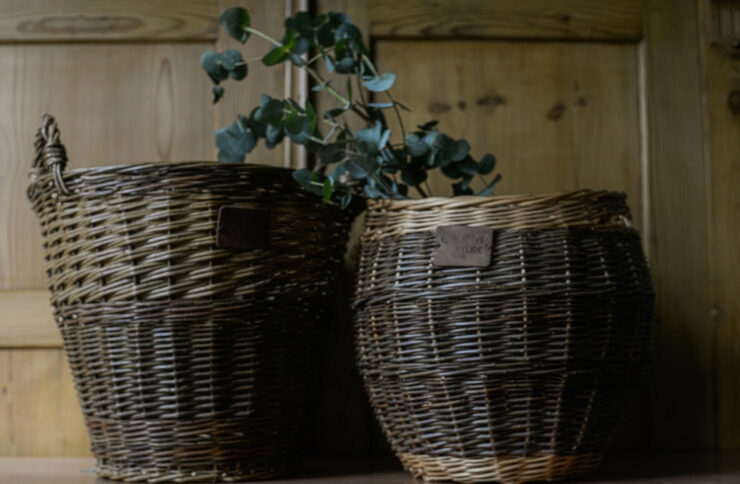 This immersive two day log basket course is suitable for beginners and intermediates.
This is a great course to work on a larger basket. Still suitable for beginners but will require some strength and an ability to stick with a project! For those with some basketry experience this is a great basket to work on developing skills and learning new basketry weaves. You'll have time over the two days to work on at least three different layers of basketry weaving techniques.
Using the finest English Willows you'll have the option of choosing from a variety of different styles including a traditional English log basket with handles, integrated handles and a wooden handle.
Joe Gregory has a number of baskets in her workshop for you to look at and choose which design you would like to work on.
With many years teaching experience Joe will be able to guide you to create a really strong and pleasing log basket design. If you have any questions over the two days around growing willow and various different basketry techniques Joe will be more than happy to pass on that knowledge.
The Willows tea and coffee house on the ground floor of the building will be open during the course to purchase the finest ethical rainforest alliance coffees and teas, cakes and simple savouries to keep you going if you wish.
Notes:
No prior experience needed but you must have good mobility in hands & feet & be able to stand whilst working.
Please wear old (non dangly) clothes, covered toe shoes (no sandals) & little or no jewellry.
Willow Log basket Two Day Course with Joe Gregory – Thurs 28th & Fri 29th September 2023
Back